WooCommerce Order Barcodes 1.3.24
Free Premium Lifetime Membership To Access All Products
GPL Download – WooCommerce Order Barcodes is a WooCommerce Extensions being developed by Woothemes. WooCommerce Order Barcodes allows your WooCommerce store generates unique barcodes for every order placed.
WooCommerce Order Barcodes Features
Barcodes can be created as one of five different types (from standard barcodes to QR codes) and can be scanned and processed directly on your site. Customers will receive their barcodes by email so they can be easily printed out where necessary.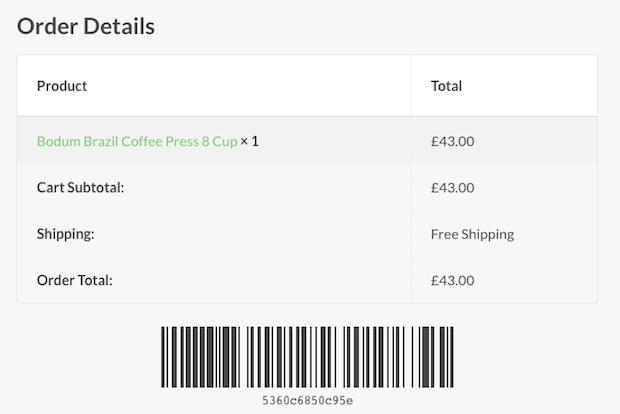 Store owners will also be able to view and print out barcodes.
Using the built-in barcode scanner, you can quickly complete orders or check customers in – this allows you to use the barcode as a robust (yet simple) e-ticket solution for any type of event, booking or reservation.
WOOCOMMERCE ORDER BARCODES REVIEW
Experts Review
Why Choose us? How is GPL Download Different from Other Sites?
HOW TO INSTALL WooCommerce Order Barcodes 1.3.24
The plugin installation can be done with two methods. The first method is the direct update method and is the easiest one because you don't require any additional plugin. We will be covering both the methods step-by-step.
Method 1 - Updating Without Plugin
Method 1 - Updating With Plugin
WooCommerce Order Barcodes 1.3.24 UPDATES
WooCommerce Order Barcodes 1.3.24 SUPPORT
WooCommerce Order Barcodes 1.3.24